HIstory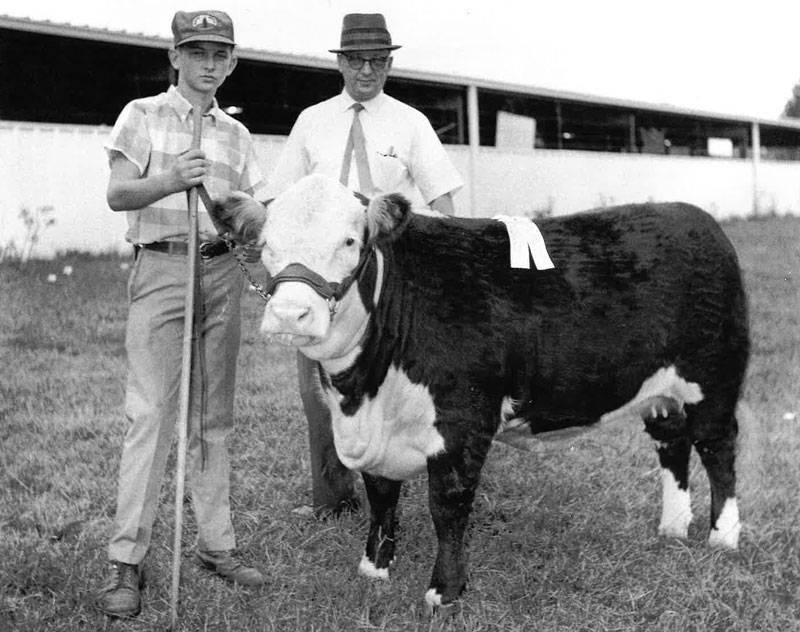 A young Joe Waggoner with father Sam

Waggoner Cattle Company is located in central Mississippi on the Waggoner Family farm near Carthage, where the Waggoner family has been raising cattle and farming as a family for over 150 years, spanning four generations. Waggoner's personal involvement in the purebred livestock industry began at an early age and the desire for breeding outstanding seedstock has only strengthened with each new calf crop. From early purchases of registered Hereford cattle until now—Waggoner Cattle Co. has grown and evolved through the meticulous attention to detail in the selection and propagation of superior genetics.

Waggoner credits his youth livestock experience and involvement in 4-H along with Hereford youth activities as the foundation for the long-term desire to breed and raise purebred Hereford and Angus cattle. Upon graduation from college and with the founding of Waggoner Engineering, Waggoner was able to establish his initial registered Hereford herd based on his sound breeding criteria and philosophies. A few of the Hereford herds where Waggoner genetics originated were: Jim and Fay Gill, Texas and Don Van Gilder, Illinois. These genetics were the industry stalwarts of the era from 1960 thru the 70's and built the perspective that Joe still holds true to this day – efficient superior genetics.

In 1979 Waggoner made several significant purchases to build his genetic base from the herds of: Pat Wilson, Florida; Rock Hollow Farm, Florida and Fred Stokes, Mississippi. These acquisitions formed the nucleus of Waggoner Cattle Co. and concentrated heavily on the Victor Domino influence which were later augmented with the introduction of Line 1 Domino genetics from Cooper Herefords, Montana and Jamison Herefords, Kansas. In 1990 Waggoner Cattle Co. expanded into the registered Angus business by adding the foundation Angus seedstock to the cattle operation. The very best pathfinder dams from the historic Drake Farms dispersal in Oklahoma were added, with additional foundation Angus seedstock from Alex Williams, Tennessee; Wehrmann Angus, Virginia and Knoll Crest Farms, Virginia.

Today the Waggoner Cattle Co. operates a herd of 200 Angus and Hereford females with an extensive ET program in place. The cow herd is built on balanced performance trait selection along with an emphasis on disposition, soundness and pigment. The Waggoner Cattle Co. cow herd is supported by a nationally recognized herd bull battery including genetics from Knoll Crest Farm, Virginia; Gardiner Angus, Kansas; Wehrmann Angus, Virginia, Baker Herefords, South Dakota along with extensive AI to the industry's leading performance sires.


Waggoner Cattle Co. is focused on fundamentally sound principles such as structural soundness, eye appeal and longevity. Our approach is steadfast and goal oriented: breed performance, economically Important traits, a strong commitment to using EPD's and associated indexes, to accommodate our commercial customers. The Waggoner Cattle Co. program reflects a strong belief in using EPD's to predict superior genetics as the Waggoner cow herd maintains EPDs that are within the top percentile of the respective breed values all while maintain our core function of docility, reproductive efficiency, soundness, and an unforgiving approach to udder quality and longevity. We encourage you to make plans to visit and inspect the herd at Waggoner Cattle Co. to witness efficient superior genetics in production.